Best Microsoft Access Programmer Portland OR
by Mercury EverOut Staff
This month is just picking up speed as we hurtle towards the holidays, but there are plenty of awesome moments to pluck out of the whirlwind this (Vampire) weekend if you know where to grab and when. Huge holiday fairs, basketball madness (or BLAZERMANIA, if you will), Drunk Herstory, and that's only the tip of the sno-cone. Hit the links below and plan your weekend accordingly
---
Jump to:
Friday
|
Saturday
|
Sunday
---
Friday, Dec 6
Portland Trail Blazers vs. Los Angeles Lakers
The Blazers welcome the Lakers to town for the first of two December meetings at the Moda Center. Putting all the franchise history and bad blood aside, you've got top talent from the legendary 2003 NBA draft pool squaring off, with LeBron James looking to write yet another chapter in his legendary career and Carmelo Anthony fighting for a graceful ending. Scoring secondhand tickets won't be cheap but saving some money and chanting "Beat LA" at the ESPN feed at your local bar isn't a bad alternative. (Fri Dec 6, 7:30 pm, Moda Center, $105 & Up, all ages) CHIPP TERWILLIGER
Vampire Weekend
"Something's happening in the country/And the government's to blame/ We got married in a gold rush/And the rush has never felt the same."
Those opening lyrics from "Married in a Gold Rush," from the latest Vampire Weekend album, Father of the Bride, perfectly entwine the running themes of the album: what it means to exist in a relationship, in a country, and on a planet that seems every day to be documenting its own demise. But for such a fatalistic album, it's got a remarkably chill sound, and considering this new sense of simplicity—and it's important not to confuse simplicity with shallowness here—it makes sense that Vampire Weekend is performing a rare unplugged acoustic set at the Crystal Ballroom. Koenig duets with HAIM's Danielle Haim on a few of Father of the Bride's best songs, heightening the theme of a crumbling relationship, so here's hoping we get a special appearance at the show. But even if it's just the band's core members, that will be more than enough to fill the venue with the album's warm, meditative sound. (Fri Dec 6, 8 pm, Crystal Ballroom, $65-70) SUZETTE SMITH
A John Waters Christmas: Filthier & Merrier
The crown prince of perversion, John Waters, returns to Portland with his one-of-a-kind one-man show, A John Waters Christmas. Those who are faint of heart beware and prepare for an evening of hilarious blasphemy. (Fri Dec 6, 8 pm, Aladdin Theater, $37-46, all ages) WM. STEVEN HUMPHREY
Howlin' Rain, The Lavender Flu, Pushy
Ethan Miller is a modern guitar hero. From his way-out-there work with Bay Area noise freaks Comets on Fire to his primitive punk thunder in Feral Ohms to his expansive psych with Heron Oblivion, the guy has been a leading light of the West Coast underground for many years. Howlin Rain is Miller's outlet for swaggering classic rock jams, and the band's 2018 album The Alligator Bride is an absolute blast, packed front to back with swampy blues, '70s vibes, eternal guitar solos, and head-to-toe denim. If you've got a friend who says they like "real rock 'n' roll" (not that weak stuff from today's bands), bring 'em to see Howlin Rain. (Fri Dec 6, 9 pm, Doug Fir, $12-15) BEN SALMON
Jamie Lee
Jamie Lee is best known for appearances on Girl Code, @Midnight, Chelsea Lately, and HBO's Crashing, but her stand-up is as good a place as any to be wowed by not just her punchlines but her presence. (Fri-Sat Dec 6-7, 7:30 pm & 10 pm, Helium Comedy Club, $25-33)
Blockhead, Eliot Lipp
An evening of experimental beats with Tony Simon (AKABlockhead), the renowned NYC-based hip-hop producer who is currently crossing the country in support of his latest album, Bubble Bath. Austin-based producer and DJ 
Eliot Lipp rounds out the proceedings. (Fri Dec 6, 9 pm, Star Theater, $16)
It's a Tony Starlight Christmas!
If you like your holiday swinging with a dose of cocktails, check out It's a Tony Starlight Christmas, in which Portland's fave crooner is joined by a rat pack of talented singers to perform classic holiday hits (and comedy) in the style of Frank, Dino, Liza, Bing, and more. (Fri Dec 6, 8 pm, The Tony Starlight Showroom, $27-75)
Rachael & Vilray, Akie Bermiss
Fresh off the release of their Nonesuch Records-issued self-titled debut, Mississippi Studios hosts a pair of intimate show with this newly-minted duo headed up by Lake Street Dive singer/songwriter Rachael Price and composer, singer, and guitarist Vilray. (Fri Dec 6, 6:30 pm & 9:30 pm, Mississippi Studios, $25-28)
KGON 45th Anniversary Bash
92.3 KGON celebrates 45 years of rocking in the Rose City with a Friday-night blowout at Revolution Hall, featuring music from Tim Taylor Band, The Rolling Tones, and Petty Fever, a silent auction benefiting the Oregon Music Hall of Fame, and a special tribute to Iris Harrison honoring her 42 years on-air at KGON. (Fri Dec 6, 7 pm, Revolution Hall, $22)
Kiran Ahluwalia
The renowned singer/songwriter out of Patna, India brings her infusion of African desert blues and Western music to the Jack London Revue in support of her latest album, 7 Billion. (Fri Dec 6, 9 pm, Jack London Revue, $20-25)
Mannheim Steamroller Christmas
Chip Davis, founder and creator of Mannheim Steamroller, celebrates the 35th Anniversary of his annual Christmas concert tour when the extravaganza rolls through Portland to bring the ensemble's iconic contemporary takes on Yuletide classics to life at the Arlene Schnitzer Concert Hall. (Fri Dec 6, 7:30 pm, Arlene Schnitzer Concert Hall, $35 & Up, all ages)
Gifted Holiday Night Market
ADX Makerspace hosts a winter market, with an array of Portland makers and local brands on hand to make your holiday shopping a breeze with handmade gifts for everyone on your list. (Fri Dec 6, 5 pm, ADX, free, all ages)
The Most Wonderful Season
As a former choir nerd, I get giddy thinking of putting on festive evening wear and stepping out to hear gorgeous choral arrangements of new and traditional holiday songs. Starting the month of December off right, the Portland Gay Men's Chorus returns for The Most Wonderful Season, a joyous holiday event that'll see them perform seasonal selections that celebrate Christmas, Hanukkah, Kwanzaa, Winter Solstice and the New Year. Get excited for costumes, lights, dancing, and a few surprises. (Dec 6-8, Fri-Sat 8 pm, Sun 3 pm, Newmark Theatre, $18-50) JENNI MOORE
Holy War: Battle of the Trinities
Hot on the heels of their RnB: The Holy Trinity dance night, Tribute Night pushes the boundaries once again, this time serving up a 3-on-3 battle that pits  Rihanna, Nicki, and Beyonce against Megan, Lizzo, and Cardi B. (Fri Dec 6, 9 pm, Holocene, $10)
The Golden Girls Bingo: A Q Center Fundraiser
The Q Center hosts an evening of Golden Girls-themed bingo, with a photo booth featuring wigs and outfits, and delicious vegan cheesecake. Tickets are $15 and will net you 3 bingo cards and a slice of cheesecake. All proceeds from ticket sales provide funding for Q Center. (Fri Dec 6, 6 pm, Q Center, $15)
---
Saturday, Dec 7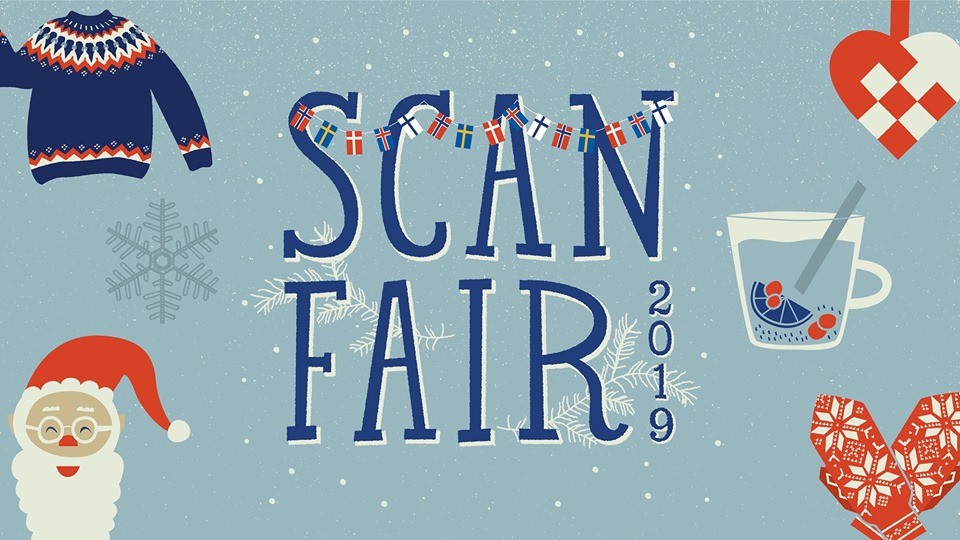 36th Annual ScanFair Market
When it comes to holidays, the Scandinavians don't screw around. Check out ScanFair, a Nordic Christmas fair that includes dance and entertainment, arts and crafts, delish Scandinavian food, a Pippi Longstocking kids area, a pickled herring contest (!!), and even a visit from jolly old Joulupukki (the Finnish Santa Claus). (Sat-Sun Dec 7-8, 10 am, Veterans Memorial Coliseum, $9-20, all ages) WM. STEVEN HUMPHREY
The Holiday Ale Festival
For the 24th straight year, Pioneer Courthouse Square gets tented, heated, and filled with over 50 specialty winter ales from some of the best brewers in the country. Come down spread some holiday cheer while indulging in an array of delicious Belgians, barleywines, stouts, and sours you won't find at the supermarket, and capitalize on the opportunity to talk to the geniuses responsible for making all these delicious suds, too. (Sat-Sun Dec 7-8, Pioneer Courthouse Square, $40-100)
Portland Cello Project: Purple Reign
The gorgeous virtuosity of the Portland Cello Project (PCP), which first took the stage in 2006 to bring classical instruments to the masses by playing pop music in unusual venues, has hit a goldmine this time around by taking on the hits of Prince in a performance titled "Purple Reign." And with some help from former Prince contributors Saeeda Wright and Tyrone Hendrix, of course you'll hear classics such as "When Doves Cry" and "I Would Die 4 U," which seem tailor-made for PCP's lush orchestrations. But I'd pluck out my own eye to hear their take on the Purple One's sexier compositions like "Darling Nikki" and "U Got the Look." I only have one two-part question: Why didn't they do this sooner, and why can't they keep performing this sold-out show for the rest of my life? (Sat-Sun Dec 7-8, 8 pm, Revolution Hall, $22-25) WM. STEVEN HUMPHREY
Yob, Earthless, Blackwater Holylight
Mike Scheidt, Aaron Rieseberg, and Travis Foster and their beloved doom and post-metal trio out of Eugene return to headline the Bossanova Ballroom in support of their 2018 album, Our Raw Heart. San Diego's Earthless and Portland's Blackwater Holylight round out the bill with their own psychedelic rock sounds. (Sat Dec 7, 7 pm, Bossanova Ballroom, $22.50-27.50)
Sugar Town Sno-Ball
We adore the semi-regular queer dance night, Sugar Town, which spins the most foot-stompingest classic soul. What could be better? The Sugar Town Sno-Ball: a semi-formal (or dress-to-impress) holiday party crammed with '50s and '60s R&B and '70s soul, all spun by DJ Action Slacks with special guest DJs and Miss McCoy reading tarot cards! Ho-ho hit the floor! (Sat Dec 7, 9 pm, The Spare Room, $10) WM. STEVEN HUMPHREY
Allah-Las, Mapache, Tim Hill
Los Angeles quartet Allah-Las came up in the same fertile West Coast scene that spawned psych-rock juggernauts like Thee Oh Sees and Ty Segall, but where those acts incorporate a double-drummer rhythm section or a terrifying baby mask to stoke the flames of showgoers, Allah-Las seem more than content to entrance audiences with deep, hypnotic grooves on their latest Mexican Summer-issued album, Lahs. Across its 13 tracks, the band shares songwriting and vocal duties; "Prazer Em Te Conhecer" finds drummer Matthew Correia crooning in Portuguese over a catchy slide guitar hook, while guitarist Pedrum Saidatian takes the lead on the sun-soaked psych-pop single, "In the Air." You won't find the same wild exuberance that defines the live shows of those aforementioned peers, but if you're looking for a brief respite from all the cold and rain, Allah-Las might be just the warmth you seek. (Sat Dec 7, 9 pm, Wonder Ballroom, $20, all ages) CHIPP TERWILLIGER
The Minus 5 Holiday Show
Beloved Portland singer/songwriter Scott McCaughey and his long-running pop-rock outfit the Minus 5 throw a holiday blow-out at Star Theater, with special guests the Delines and members of the Decemberists, Eyelids, Casey Neill, and more joining the fun and lending their talents to a program featuring songs pulled from the Minus 5's winter holiday album, Dear December, along with a slew of other Christmas/Hannukah/Festivus favorites. (Sat Dec 7, 9 pm, Star Theater, $15)
48th Annual Lewis & Clark Cat Show
Do you like kitties? How would you like the opportunity to spend 2 days looking at over 200 kitties, spanning over 30 breeds, as well as picking up all manner of stuff to take home to your own mangy, hairball-hacking crap machine. Kitties! Proceeds benefit the Cat Adoption Team. (Sat-Sun Dec 7-8, 9 am, Lloyd Doubletree Hotel, $7, all ages)
Savages: A Prestige Stand-Up Showcase
Portland comedy scene staples Adam Pasi, Amanda Arnold, and Nariko Ott head up this brand-new comedy showcase every first Saturday at the Kickstand space. The line-up is a secret, but you can always count on some top local and national talent to swing through (Sat Dec 7, 9 pm, Kickstand Comedy Space, $10)
Fake Radio Presents: It's a Wonderful Life
L.A.'s Fake Radio links up with special guest actor Peter Onorati (This Is Us) to stage a live-radio-show style reproduction of Lux Radio Theater's take on the beloved holiday classic, complete with all the commercial interludes found in the original 1947 CBS Broadcast. (Sat Dec 7, 8 pm, The Old Church, $20-40)
Speechless
The San Fransisco-born phenomenon returns once again to the Siren stage for a holiday-themed evening of ridiculous PowerPoint goodness courtesy of very local and very agile comedy minds. (Sat Dec 7, 8 pm, Siren Theater, $12)
Kalimba's Earth Wind & Fire Holiday Spectacular
The spirit of Earth, Wind, and Fire, given shape in a form very similar to, but distinct from the actual Earth, Wind, and Fire. But even by a different name, the potent grooves remain the same. (Sat Dec 7, 8 pm, Aladdin Theater, $20-26, all ages)
Beacon Sound Grand (Re-)Opening Party
Beacon Sound is back, and they're making sure you don't just know it, but you feel it, with a lineup that includes local all-stars like Amenta Abioto, Dolphin Midwives, Omari Jazz, and Location Services, as well as a mini-fashion show showcasing new designs from Faro Fabrics. (Sat Dec 7, 8 pm, Beacon Sound,$5)
---
Sunday, Dec 8
She Bop's 10 Year Anniversary Celebration
As you know, Portland's finest all-inclusive sex toy shop is She Bop, which has been in the business of selling safe sexy playthings for every type of body and sharing much-needed education for a glorious 10 years. And to celebrate, they're throwing a big party, and YOU'RE INVITED. Expect a wondrous night of entertainment including music, burlesque, comedy, mini workshops from the She Bop experts, PLUS games, raffles, and free sexy goodies for all their guests! She Bop has done so much to make Portland a better, sexier place, so let's help 'em celebrate! (Sun Dec 8, 8 pm, Mississippi Studios, $15) WM. STEVEN HUMPHREY
Drunk Herstory
The concept behind Drunk Herstory is pretty similar to that of Drunk History (the Funny or Die series that graduated to beloved Comedy Central TV show status): storytellers relate historical accounts from inside their cups (drunk/high!). I very much enjoy this practice and the only thing that could make it better IMO is if the history was queer history and the storytellers were some of the city's funniest, coolest drag queens, like Nae Nae Dominatrix, Sue E. Psydoll and more! (Sun Dec 8, 6 pm, Funhouse Lounge, $6-40) SUZETTE SMITH
Conan Gray, Benee
The ground that Conan Gray explores—the politics and horror of high school—may have been trod upon many times before, but this 20-year-old brings a fresh eye and lots of pessimistic heart to the discussion. Minimalistic and haunting, Gray's voice soars and swoons on his 2018 EP Sunset Season about life after graduation in a small Texas community ("Idle Town"), merciless bullying ("Greek God"), and the bitterness of everyone finding love—except you, of course ("Crush Culture"). A prolific singer who, like many of his contemporaries, are finding immense popularity on YouTube, Gray has a particular talent: mining his own feelings to reflect those of his particular demographic. And it works. (Sun Dec 8, 8 pm, Roseland, $29.50, all ages) WM. STEVEN HUMPHREY
Prokofiev's Fifth
Christian Kluxen conducts the Oregon Symphony in this joyful performance of Prokofiev's Fifth Symphony, with assistance from vocalist Gabriel Kahane. The program also includes pieces by Kahane himself, and Beethoven's overture to "The Creatures of Prometheus." (Sun Dec 8, 2 pm, Arlene Schnitzer Concert Hall, $31-77)
Vegan Drag Brunch: The Morning Grind
Host Flawless Shade and special guests Sativa Goddamn Jones, Kwanza Fushionn Shade, and more head up the first installment of this vegan drag brunch at Capitol. Come out and indulge in an unlimited Vegan buffet and drink specials from Hornitos and Roku Gin, all while enjoying the newest drag brunch show in town. (Sun Dec 8, noon, Capitol, $25)
Jame Doe, Orkis
The first Sunday Session of December doubles down on electro-pop goodness in a platinum blonde shade, with sets by Jame Doe and Orkis. (Sun Dec 8, 8 pm, Rontoms, free)
The Aquadolls
Singer/songwriter Melissa Brooks and her Los Angeles-based band light up Holocene with their sun-kissed psych-rock, surf, and grunge. (Sun Dec 8, 8 pm, Holocene, $12-15, all ages)
Oregon Historical Society's Holiday Cheer
The OHS's annual literary celebration returns once again, with 80 local authors in attendance signing their works and chatting with readers, while the Dickens Carolers lend their voices to those sipping hot cocoa and buying good books. Attendees include Les AuCoin, Gerry Frank, Darcelle XV, Eric Kimmel, and more. (Sun Dec 8, noon, Oregon Historical Society Museum, free)
Blanco Brown, Ryan Hurd, King Calaway
98.7 The Bull presents the St. Jude Jam benefit concert at the Pondo, with live performances by Blanco Brown, Ryan Hurd, and King Calaway. (Sun Dec 8, 6:30 pm, Ponderosa Lounge & Grill, $35)
Joy of Cooking
Get your hands on a fully revised and updated edition of Irma S. Rombauer's Joy of Cooking, and hear from Irma's great-grandson John Becker and his wife, Megan Scott, who developed more than 600 new recipes and tweaked a few of the classics to tailor the beloved kitchen bible to a new generation of home cooks. (Sun Dec 8, 7:30 pm, Powell's City of Books, free)
Don't forget to check out our Things To Do calendar for even more things to do!
[ Subscribe to the comments on this story ]